Sylvia Duran Sharnoff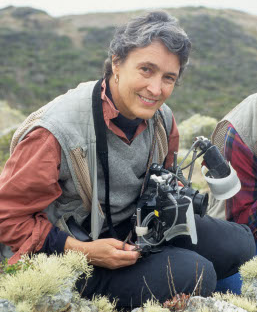 The International Association for Lichenology named its Education Award after Sylvia Duran Sharnoff for good reason. She was a remarkable woman, a talented nature photographer, and a dedicated naturalist, who had a passion for educating the general public about the beauty and importance of lichens. It was this passion that led her to suggest preparing a guidebook for the lichens of North America and to convince me, with all my prior commitments and unfinished research papers, that such a book was long overdue and could be completed successfully. She and her husband, Steve, an equally gifted photographer, immediately started applying for grants, taking local photographs, and preparing for their 4-year odyssey criss-crossing the American continent to photograph as many of the 3500 species then known for the area. While they travelled, Sylvia and Steve gave dozens of slide shows and lectures to the public, showing people that lichens were worthy of their attention and protection.
Sylvia had a searing intellect and, although certainly not lacking in humility, was tough to argue with. She finally convinced a number of foundations to support the North American Lichen Project, and by doing so, helped to bring our book into existence. The book itself is a testimonial for her desire to educate the public about lichens. It was a great tragedy that cancer prevented her from seeing how successful her idea was, as she died almost 3 years before the book finally appeared. Knowing Sylvia, I am sure that she would have been absolutely delighted to see high quality of the school projects now on the Internet, and to be part of the IAL's education award.
Irwin Brodo, 5 Aug. 2004